Welcome to the Peter Pond Society
This is the story of Peter Pond (1740-1807), an overlooked Connecticut Yankee who was the precursor to Lewis and Clark. He was born in Milford, CT, became a giant in the Canadian fur trade and returned to Milford to spend his final years. The location of his grave is unknown. Pond inspired Alexander Mackenzie to become the first white man to reach the Pacific Ocean overland across North America in 1793. This was 12 years before Lewis and Clark
First Across the Continent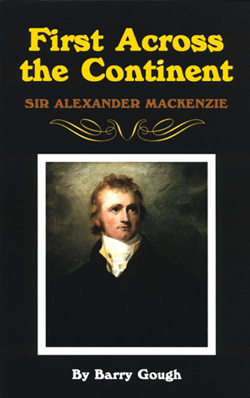 order book
This a portrait of Sir Alexander Mackenzie (1764-1820) by Sir Thomas Lawrence hanging in the National Gallery of Canada. Pond never had his portrait painted. The Mackenzie portrait is on the cover of a book about this famous explorer by Dr. Barry Gough, former history professor (currently retired) at Wilfrid Laurier University, Ontario, Canada. Gough, probably Canada's best authority on Pond, is also a charter member of the Peter Pond Society. The book cover graces this web page with his kind permission. The book is about Mackenzie, but shows he owes Pond a great debt in his rise to immortality. It was Mackenzie's book on his overland voyage to the Pacific Ocean that caused President Thomas Jefferson to launch the more famous Lewis and Clark Expedition, which reached its objective in 1805.
It can be argued, therefore, that without Pond there probably would have been no Lewis and Clark Expedition. Peter Pond is an overlooked North American hero who deserves more attention than he has received. The United States had its Lewis and Clark Bicentennial 2003-2006. Canada observed the Mackenzie Bicentennial with much fanfare in 1993.
GOUGH ADDS TO PETER POND SCHOLARSHIP
Former history professor Barry Gough of Victoria, B.C. has just published his own book on Peter Pond, which came out Sept. 5, shortly after Chapin's came out July 1. These are the first full-length books to come out on Peter Pond since Harold Innis' Peter Pond: Fur Trader and Adventurer was published in 1930. Now we have two in the same summer 84 years later. The title of the book is The Elusive Mr. Pond: The Soldier, Fur Trader and Explorer Who Opened the Northwest.
It's available on Amazon.ca where the book is available now with the price in Canadian currency. I'm just assuming that for USA people ordering, they'll still take your money
The Amazon Canada site
"Freshwater Passages: The Trade and Travels of Peter Pond" talk at the Milford Historical Society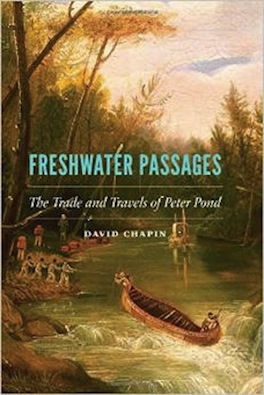 order book
David Chapin, author of "Freshwater Passages: The Trade and Travels of Peter Pond," will speak at the Sept. 22, 2014 meeting of the Milford Historical Society.
Pond, who was born in Milford in 1740, drew some of the earliest maps of the regions west of the Great Lakes and Western Canada. His exploits prompted President Thomas Jefferson to send Lewis and Clark on their quest to explore the Northwest Regions. After a lifetime of travel and adventure that few in the 18th century could have even imagined, Pond returned to Milford where he died in poverty in 1807.
Chapin is from Austin, Texas and has a Ph.D. from the University of New Hampshire´s College of Liberal Arts. He is also the author of "Exploring Other Worlds." The program at the Mary Taylor Memorial United Methodist Church on the Green, 168 Broad St., begins at 7 p.m. and is open to everyone.
More information on this talk is available at the Milford Historical Society.
Peter Pond historical marker
A historical marker honoring Pond was installed at the edge of Milford Cemetery in October 2010. The cemetery is the oldest of its kind in the nation that has been continually operating. We thank the Milford Preservation Trust for footing the bill for the marker. We also thank the Milford Cemetery Association for granting permission to install the marker.
Magnificent Adventures
Though Pond never sat for a portrait, Illona Campbell depicted him for my March 1984 article in CANOE Magazine. The scene is from "The Magnificent Adventures of Alexander Mackenzie," by Philip Vail (Dodd, Mead and Co., New York, 1964) when Mackenzie first meets Pond: "Pond stalked into the hall, a pack of dogs at his heels. The gray-haired giant had not shaved in weeks, his buckskins were stained, and he was badly in need of a bath. But his natural dignity was overwhelming. He ate a large venison steak, a platter of bear-bacon, and a moose liver. He insisted his dogs be given fresh meat, too."
Milford Hall of Fame
Peter Pond was inducted, along with four others, into the Milford Hall of Fame on September 22, 2009. The Hall of Fame plaque, with likeness and inscription as displayed in a corridor of Milford's Parsons Government Center, is below. The symbols shown on either side of Pond are those on the city's municipal flag. Milford artist Dorothy Kozlowski drew the likeness taken from the Campbell work above.
Montreal's Beaver Club
Peter Pond was a charter member of Montreal's exclusive Beaver Club. Here is the front and back of his Beaver Club medal which served as his name tag. The medal is still in the hands of a family member.